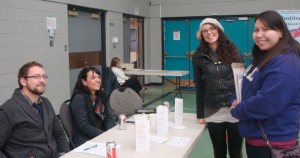 Over the Fall 2013, a successful 4-part initiative to promote the multiple benefits of having young people involved with community social service agencies was undertaken by Board Voice member agencies in Prince George in partnership with other local community social service providers, the United Way of Northern BC and the University of Northern BC School of Social Work, Community Development Institute, and Alumni Association.
The idea of the initiative, known as Youth on Board, was to provide young people with an opportunity to connect with and learn more about board and volunteer involvement with community-based social service agencies, while at the same time providing a forum for agencies to hear from young people about ideas and potential contributions youth could make.
Youth on Board was launched in September and October 2013 and included three interactive panels and a Board Fair – all hosted in the late afternoon with refreshments provided.  Sessions were as follows:
Community Social Services: What are they and why get involved?
Board of Directors: What roles and responsibilities?
Voice of Youth: What youth can and are contributing.
Board Fair: Agency information booths – A time for agencies to engage with each other and with interested youth.
About 30 young people participated, with those attending 2 or more sessions receiving a Certificate of Participation to include on their resumes.  More than 20 local community social service agencies set up displays at the "Board Fair".
Evaluations and feedback from both youth and agencies indicate that the project was a huge success in terms of young people learning more about boards and connecting with agencies; boards learning more about the contributions that youth can and are making; and boards having the opportunity to connect with each other at the Board Fair. Every individual and agency who has provided feedback wants this initiative to continue.
Happily we were able to augment the Vancouver Foundation funding with both cash and in kind donations (thanks especially to the United Way of Northern BC for providing refreshments for each session).  We will be continuing the Youth on Board work with a gathering in the new year to which all participants in the Fall initiative (youth and agencies) will be invited along with an invitation to any other agencies or young people that would like to connect with our ongoing work.
Many local agencies and individuals contributed to the success of this initiative by spreading the word and attending the Board Fair. And more are coming forward to get involved.  A special thanks goes to those who served on the initial project organizing team including Intersect Youth and Family Services Society, BC Schizophrenia Society (Prince George Branch), Association Advocating for Women and Children (AWAC), SOS Society Sexual Violence Prevention and Counseling Services, the Prince George and District Elizabeth Fry Society, the Crisis Centre for Northern BC, AIMHI Prince George Association for Community Living, United Way of Northern BC, and the UNBC School of Social Work, Community Development Institute and Alumni Association.